Coaching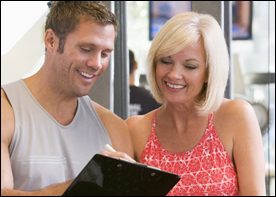 Coaching Programs for Employers
Options for the Health-Conscious Workplace
The existence of a corporate wellness program in your workplace shows that you already know that helping employees improve their health has tremendous benefits for the company as well as the individual. Adding a coaching component to your program is the next step in creating an even healthier workplace.
The Bottom Line
Wellness coaching improves outcomes for a variety of health issues. Coaches work one-on-one with the participant to help them identify goals to improve their health, develop strategies to achieve their goals, and plan for potential obstacles and relapses. They provide invaluable expertise, resources, support, and encouragement as participants make transitions toward better health and wellness.
The Coaching Experience
We partner with your employee to create a coaching experience that:
Empowers them to take control of their health and wellness needs.
Encourages realistic and attainable goals.
Promotes accountability.
Builds self-confidence and self-efficacy.
Prepares them to overcome
barriers to success.
Provides the tools needed to
achieve lifelong lifestyle changes.
Including Two Critical Resources
QUICKCOACH™
QuickCoach is a call line with ready access to a trained Behavior Modification coach. Coaches addresses a variety of wellness related topics, from general concerns that relate to all aspects of health—like how to begin a new habit —to specific issues such as getting a better night's sleep as well as readiness to change.
WORKINGWELL COACHING
WorkingWell Coaching offers employees the experience of having a series of coaching sessions with the same coach in which to develop an in-depth plan for improving their health.  The rapport and accountability that develops from having multiple calls with the same coach leads to the highest possible degree of success.
Contact us to learn more about coaching for your company.
Coaching Programs for Individuals
The WellAdvantage Coaching Institute was launched in response to increasing demand from individuals for personalized help in creating the behavior changes needed to bring out lasting improvements in health and wellness. The Institute is part of the continual growth of WellAdvantage. The WellAdvantage Coaching Institute brings health and wellness coaching directly to individuals empowering healthy lifestyle changes, including diabetes prevention or management, weight loss, and smoking cessation. Anyone can sign up for a free 15-minute consultation with a coach by visiting http://welladvantagecoaching.com.
Through the Institute, coaching is conducted primarily via telephone consultations, and includes a complete web portal with health tools, mobile app and FitBit® integration. Coaching clients are able to use these health tools to track food and exercise, communicate with the coach, and access educational webinars and other resources that increase chances for great success. This approach not only makes coaching more accessible and affordable, but it also ensures regular communication and accountability.